Nineteenth century English literature: a new special collection
[A guest post from Andrea Lloyd, Curator of Printed Literary Sources, 1801-1914 at the British Library]
After almost a year of gathering I'm pleased to announce that my 'Curator's Choice' collection of websites relating to 19th century English literature has now been published on the UK Web Archive.
As a curator of printed literary sources for the period 1801-1914 it doesn't require a great leap of imagination to discover why I chose this particular topic. The collection is intended to reflect the diverse interests in the genre that are substantiated on the web. Opinions about, and interpretations of 19th century literature and its authors are constantly evolving and I hope that this resource contextualises these important scholarly and cultural changes.
The sites included so far display a broad and eclectic array of subject matters – ranging from author societies to museums; from literary adaptations to academic syllabi. 19th century literature is still hugely popular and attracts a wide audience. Given the massive interest in the likes of Jane Austen and Charles Dickens, I initially thought I would concentrate on lesser-known authors, and on literature that has grown somewhat obscure in the intervening years. This ultimately isn't how the collection has evolved – sometimes because many of the more niche sites are published without giving any administrator contact details (so permission cannot be sought to archive the site). In other cases, the owners have not responded to permission requests – often because they have cast the sites off into the vast 'webosphere' to fend for themselves.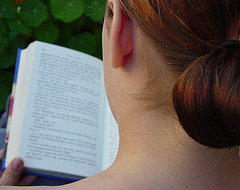 As someone who works with 19th century printed ephemera on a regular basis I found this exercise particularly fascinating. Pertinent comparisons can be drawn between the ephemeral items that are published on the web and those that were printed in the 19th century. A great deal of the ephemeral literature produced in the 19th century has survived to this day (albeit in a fragile state) – either through luck or thanks to collectors with foresight. Given its transient and contributory nature there is a great danger that similar items produced in electronic formats may not be so lucky – hence the reason the Web Archive is so vital. Hopefully my 22nd century counterpart will thank me for choosing to preserve for posterity some of the more marginal, fleeting and subjective sites available relating to the genre!
Now it's available for all to see, I hope that others will recommend sites that they think would complement the theme and help to create a lasting snapshot of 19th century literary scholarship in the 21st century. Do get in touch via this blog, or @UKWebArchive on Twitter.
[Image by anna_t, Creative Commons BY-NC-SA]