02 April 2015
Help us build the Directory of UK Sound Collections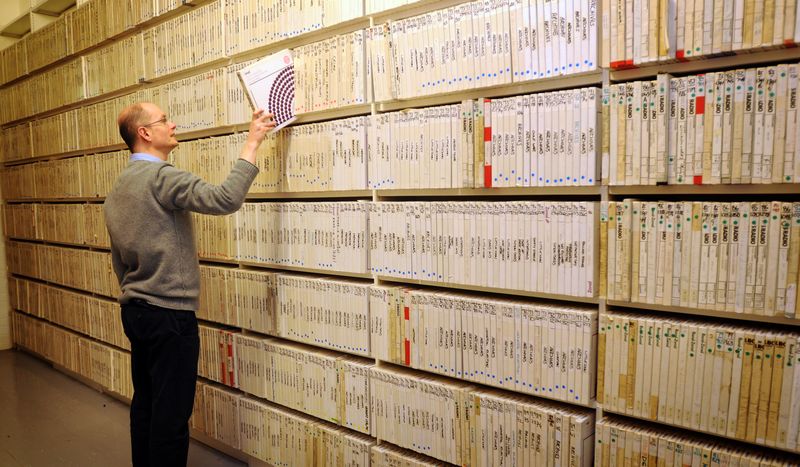 On January the 12th the British Library launched the Save our Sounds programme.

Since then we have been building a Directory of UK Sound Collections by gathering information from sound collection holders across the country about the condition, formats, extent, uniqueness and subject matter of their collections.
This valuable information will allow us to assess the state of the nation's recorded heritage and the risks it faces.
Project deadline extension

Since the last Directory update the response has been fantastic and, to date, we have received information on 925 individual collections totalling 838,473 individual items.

Due to the excellent response we are happy to announce that the deadline for submission of collection details has been extended to May 31st.
Taking part
If you have a sound collection, no matter how big or small, we would love to include it in our survey so please get in touch.
All informaton about how to submit collection information can be found on the Directory project page or you can email us on UKSoundDirectory@bl.uk.
Promotion is vital to the success of the project so please help us to spread the word to any friends, relatives or colleagues you feel may be in possesion of a sound archive or collection.
You can follow the British Library Sound Archive on Twitter via @soundarchive and the project hashtag is #SaveOurSounds.

We know that there are many more collections out there and we would love to hear about them!
What we have discovered so far

The responses already received have provided great insight into the types of collection holders in the UK, the breadth of the subjects that their collections cover, the formats they are held on and what condition the collections are in. With this information, we can begin to assess the state of the nation's sound collections and the risks they face.

The above graph demonstrates the diversity of formats we have received information on ranging from wax phonograph cylinders and shellac discs to MiniDiscs and DATs. We will publish advice on the risks to and care of these different formats in a later blog post.
Collection highlights
We have received information on a huge range of subjects demonstrating the great wealth and diversity of the UK's sound collections including the following collections of interest:
Classical and Experimental Music
Daphne Oram Archive: over 500 recordings of works by the pioneering British composer and electronic musician Daphne Oram (1925 - 2003), creator of the "Oramics" system, a technique used to create electronic sounds.
Delia Derbyshire Archive: featuring over 267 tapes covering Derbyshire's time as a composer at the BBC's groundbreaking Radiophonic Workshop between 1962 and 1973.
Centre for Russian Music Archive: an archive of over 500 recordings including notable material donated by the Glinka State Museum for Musical Culture in Moscow.
World and Traditional Music
Kenneth A. Gourlay Archive: material relating to Gourlay's ethnomusicological research on the musical cultures of Uganda, Nigeria and Papua New Guinea.
Bristol Record Office St Paul's Archive: recordings of performances spanning the history of the St. Paul's carnival.
Essex Record Office Traditional Music Archive: Over 1000 recordings of traditional and folk music played by Essex musicians or performed at Essex venues.
Drama and Literature
Lily Greenham Collection: original tapes belonging to poet and experimental sound artist Lily Greenham (1924-2001).
Bunnet-Muir Musical Theatre Trust Archive: over 11,000 audio recordings on cylinder, 78, 45 and 33 rpm records, cassettes, reel to reel, CD & piano rolls.
The Rambert Archive: over 800 recordings created by the Rambert Dance Company through the process of the work the company produce.
Language and Dialect
University of Cambridge Library Collections: including the Linguistic Survey of India collection.
Popular Music and Jazz
Women's Revolutions Per Minute (WRPM) Archive: WRPM was set up in 1977 as part of the Women's Art Collective in London promoting festivals of music by women as part of the Women's Liberation Movement. 
Dave Collett Blues Collection: recordings of the pianist for Acker Bilk band.
Radio
BBC Essex Archive: Over 7,000 BBC Essex radio recordings including interviews, documentaries, outside broadcasts, news, sport, vox pops and phone-ins.
George William Target Collection: Sound recordings of George William Target (1924-2005), writer and religious commentator. Includes a recording of Desert Island Discs and Target's contribution to the Today programme's feature 'Thought for Today'.


Speeches and events
Cumbria Local History Archive: speeches made during the 1951 General Election campaign by Walter Monslow, Clement Atlee; Speeches made at CND meetings and rallies in Barrow-in-Furness 1984-1985 including Bruce Kent, Captain James Bush (USA), Joan Ruddock, Michael Foot MP, Japanese speakers from Hiroshima.
News
Ronald Sturt & Talking Newspapers for the Blind: recordings relating to Ronald Sturt's life and involvement with Talking Newspapers for the Blind, 1970-2002.
Oral History
Manchester Jewish Museum Archive: 716 recordings from the early 1970s onwards containing interviews with first, second and third generation Jewish immigrants and providing unique anecdotal evidence of the mass migration of Eastern European Jews in the late 19th and early 20th centuries.
Ambleside Oral History Archive: An ongoing oral history project which began in 1978 and has recorded the lives and times of over 450 people born in the Lake District from 1877 onwards.
Natural Sounds
British Trust for Ornithology Archive: over 780 recordings of ornithological interest including a copy of a set of BBC recordings made in the early 1960s.
RIDGEWAYsounds: field recordings and mixed soundscapes made by participants of Seasonal Sound Walks and Sounds of the Neolithic on the South Dorset Ridgeway.
The British Library's Directory of UK Sound Collections is one of the first steps in our Save our Sounds programme; one of the key strands of Living Knowledge, the British Library's new vision and purpose for its future.